Meet and greet the team from UQPWC

Come and meet club members at the University of Qld Market Day Wednesday 27 July 2016.
UQ Market Day is a great place to go to learn about sporting and social clubs at the University of Queensland, St Lucia.
Every year UQPWC  members are on hand to answer your questions about joining the club, our equipment, coaching, diet, training times and powerlifting competitions.  As UQPWC runs powerlifting competitions on behalf of Powerlifting Australia many of its members are either competitors, referees, officials or event directors. Competitions are held at the club three times per year and spectators are welcome to come along.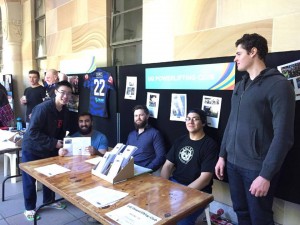 Drop in and meet us, learn how to join the powerlifting club and where we train. Ask about our free "Give it a Go" day where you can come to the club on Saturday 30 July 2016 between 12 and 2pm and try your hand at powerlifting.  Register for the workshop at Eventbrite